4:13 pm
[emma7926]

Hello
Hi! I'm not certain whether anybody in this group is active any longer, but am saying "Hi!" just in case.
My name is Emma, and I have been making Project Linus donations for a few years now. Today I realized that donating to Project Linus has the potential to transform lives as much as blood donation does, so I am more inspired to create and donate.
3:05 pm
[doclegs]

Star Shell Afghan
I completed this afghan for Project Linus from their Star Shell pattern, and it turned out fantastic. My other half doesn't want me to give it away (I promised him I'd make another one someday).
I'm not sure how to do the pictures, so let's see how this happens. I also don't know how to "snip," sorry about that.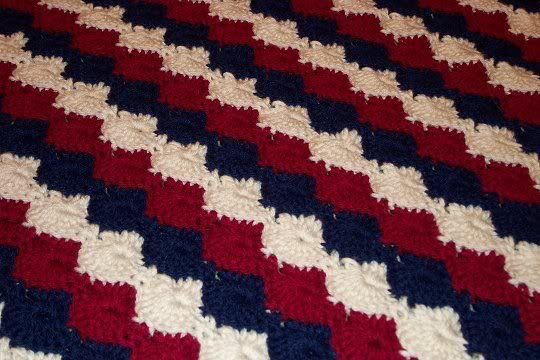 Current Mood:
accomplished
4:12 pm
[gratiana]

Taggie blankets
Hello hello? Is this community still alive? If so, I thought I'd share instructions for one of my favorite fun
EASY
and cute baby blanket sewing projects. It's similar to the "Taggies" you can buy covered with silky ribbons for kids who love the feel of those silky tags on blankets and toys. I know "Taggie" is a trademark, but hopefully I won't get in trouble for this since I'm not foisting off my own blankets as the real thing, and I'm not selling them either. I just give them as baby shower gifts or donate them to Project Linus.
EASY blankie tutorial! With pictures! Ooooh...!
x-posted at
sewing
4:13 pm
[doclegs]

Hello!
I'm just saying hello to the community, even if it has been a while since anyone posted. Thank you to stormkitty for replying to my comment. :)
I actually ran across Project Linus a few months ago, while looking for crochet patterns online. I'd been making baby blankets for friends, and ran out of new babies to make blankets for. I'm not particularly quick at crochet, nor am I particularly good at it, but it seemed like a nice way to make a difference.
Has anyone actually donated to the program? What was it like?
I've got one blanket finished and am 1/3 of the way through a second (larger) one, so I hope to have 5 to donate when I'm finished. Maybe I can even post a picture, if that helps!
Glad to be joining.
Current Mood:
excited
3:14 pm
[ex_oroboros138]

welcome!
theres not much here yet, but i'll be updating with news & goings ons as they come up.
I have a nervousness LMAO right now-making a big quilt for linus. everyone contributes one 10 by 10 inch square.
http://nervousness.org/lmao/index.cgi?id=9374